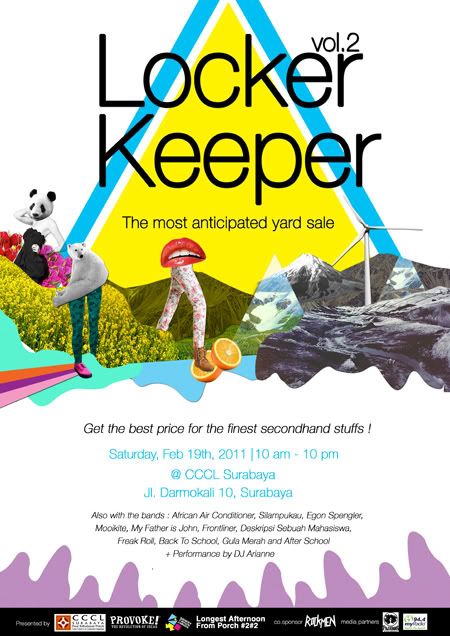 Hey, Locker Keeper telah hadir kembali!
Dipersembahkan oleh Surabaya Fashion Carnival,
CCCL Surabaya
,
Provoke!
, and
Longest Afternoon From Porch#2#2
,
Locker Keeper Vol.02 siap "memanaskan" kantongmu!
With a brand new concept of yard sale, Locker Keeper Vol.02 is surely a thing you won't miss.
Mengapa?
Karena acara yang merupakan sub-acara dari rangkaian kegiatan Pusat Kebudayaan Perancis,
"Chansons et Chocolat Chaud"
(Nyanyian dan Cokelat Hangat)"
ini akan berlangsung selama 12 jam penuh kejutan!
- 26 booth dari partisipan yang tersebar di 2 area (kebun belakang dan cafe) akan siap memenuhi hasrat belanjamu!
- Tersedia ratusan pakaian (atasan, bawahan, jaket), puluhan alas kaki, sejumlah aksesori dan perlengkapan lainnya (yang telah terpakai dan berkualitas) dengan harga miring.
- Puluhan cokelat panas, balon warna-warni, dan hadiah yang tersedia pada waktu tertentu.
- Penampilan dari sejumlah musisi lokal Surabaya di malam hari : African Air Conditioner, Frontliner, My Father Is John, Mooikite, Egon Spengler, Deskripsi Sebuah Mahasiswa, Silampukau, Freak Roll, Back To School, After School, dan Gula Merah; plus permainan musik dari DJ Arianne (Samola)
So, what are you waiting for?
Go mark your calendar as soon as possible!

See you on Saturday, pals!