Day : Tuesday
Date : August 5th, 2008
Time : 7 – 10 pm
Location : Garlick 2nd store, Jl. Bawean 39 Surabaya



This was a big big day for Surabaya Fashion Carnival ! As you know from the previous post, this was our first project to public. We had prepared anything for the show and we kept praying to God.
We were arrived at 5 pm and immediately organized the models (although all of them hadn't come yet). Then the show began at 8.30 pm when Heavy Monster were already on stage (see their photos below- the vocalist were wearing shutter glasses. Oh, their performance was really good!) The first session was ended on casual look.

Then we continued the show when VOX were playing their first track. This was for a bit hippie look (as we know, headband is totally booming now!) and another eye-catchy idea. The models were taking a pose as much as the photographer would shoot them. Yeah, there was "Fashion photography on the spot contest".

Okay, let's rockin rollin!
Congratulation for the winner of Fashion photography on the spot contest. See their artwork below here..
.....Then we jump to Surabaya street style report!
WELL, THAT DAY WAS TOTALLY AMAZING !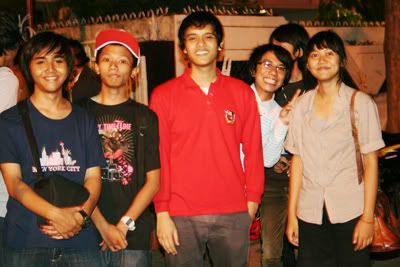 at last but won't be forgotten,
Prambors 89.3 FM, the performers, and visitors.
I'll see you again!
*you also can see another report from http://www.mellonzine.com/
,
http://www.pramborsfm.com/?opt=news&id=2475
Photo by Ayu and Phutri. Fashion On The Road wardrobe by Garlick and models own. Coordinator by Echa.