This is what we've been waiting for! 
We proudly present "The DROPDARE" as our new segment. The DROPDARE is about dare you to have an unusual fashion style and make up.
Check this one out!




Location : Kemal's house
Photographer : Ayu and Seno
Stylist & wardrobe : Ourselves
Talents : SFC crew (minus Putri)
             The Boys (Kemal & Seno)
             Cindy

Well, this is what we used to paint our face.

 
Snazaroo
What is this?
"The world's favourite face paint and body paint", which means its really save to use
Where to buy?
TGA Bookstore, Galaxy Mall Surabaya
How much?
Rp 56.000,00
*Product further info, click here

Yea here we go!!



Echa
with her umbrella.. ella.. ella.. e e e e lol:)



Qza
Stay away! I'm a mafia!



Gloomy dolls




Mars
I blink for you ;p



Cindy
Im so sorry...



Gesture



Kemal (Left)
* Actually, Kemal is Alex Turner's (Arctic Monkeys) big fan. He watched "Flourescent Adolescent" live video and he were really into it! That's why he made it. 
Seno (right)
* He also made some photographs of us


The Couple 1



The Couple 2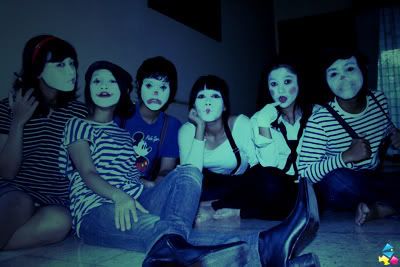 Bring back together



Ayu - Hey she's smiling at you!!
Our lovely friend and photographer
* We are very sorry that Putri couldn't join, she had to go to Malang.