Day : Sunday
Date : June 15th, 2008
Time : 7.30 pm – 10.00 pm
Location : Tomodachi Resto and Café, Jl. Embong Ploso 27 Surabaya

Hello there. Nice to meet you again! We'd like to say THANK YOU VERY MUCH for you who have supported and appreciated our works. Ok, let's go to the following report.


Art Injection digital poster, published in several friends comments space on Friendster.



Then we caught them!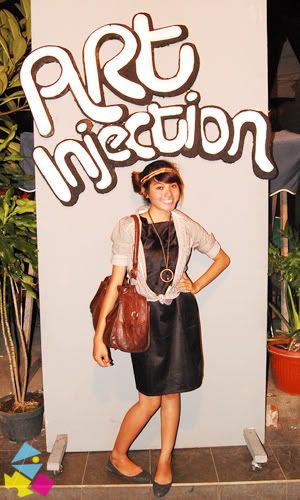 Bella, 19,
Despro ITS
Black dress : Boboyu – Supermal Pakuwon Indah (SPI) Surabaya
Black and white slighted stripes shirt : Xing – Pakuwon Trade Center Surabaya
Shoes : Garlick (Surabaya local shop)
Big bag : a gift from her boy
Gold headband : somewhere shop in SPI Surabaya
Ethnic necklace : Ethnic boutique in Surabaya Town Square
Febrina (Peb), 18, graduated from SMA St. Louis 1 Surabaya
Dress : somewhere shop in Pasar Atom Surabaya
Gladiator sandals : Belle, Mitchybell – Jakarta
Vintage bag : Miss Selfridge
Bracelets : somewhere shop in Galaxy Mall Surabaya
Necklace : Rotten Apple (local shop, local brand in Surabaya)



Krishna,18, Yes! You Can author, graduated from SMA Santa Maria Surabaya
T-shirt : The Beatles merchandise
Jacket : Airplane, Insurgent Army
Black skinny pants : a friend's gift
Shoes : Andre Valentino
*Check his own fashion-music blog which concerns to branded urban nu-rave street rock&roll (this is how he called, hehe) see
www.dressupeveryday.blogspot.com
. Good work, mate!


Remy, 19, UPN Surabaya
Flannel shirt : 347
T-shirt : Airplane
Jeans : Levi's
Shoes : Celtic
Bag : Ouval Research
Lomo camera : Holga




Ariest, 25, Designer


Black jumper : Pasar Gembong, Surabaya – then handmade
Black skinny pants : Pasar Gembong, Surabaya
Boots : handmade
Rings : a gift and buying
Necklace : somewhere local shop
Bracelets : his parents gift and buying
* Ariest keeps his own gothic style since 3 years ago. His dressing story has ever been published on Metropolis, Jawa Pos.






Antok, 22, ITS


T-shirt : handmade (by Crop)
Black pants : handmade (by Crop)
Shoes : ZARA
Bag : A-mild
* Check his job : http://profiles.friendster.com/70706719 -

Call me CROP

( a printed and manual tee, character, graphic)


Dindot, 17, graduated from SMAN 2 Surabaya
Black long sleeve polo shirt : somewhere shop in Bandung
Khaki short pants : somewhere shop in Bandung
White shoes : Bata
Belt : Mango
Vintage bag : her Mom's stuff




Ayi, 20, UPN

Surabaya


T-shirt : from Bandung
Black jeans : his father's gift
Canvas shoes : Converse
Necklace : Malioboro, Yogyakarta
Bracelet : Malioboro, Yogyakarta

Okay that's it, thanks for you all! Meet us on next posting.
Love,

Marsha. Putri. Qza. Echa



(all photos were taken by Putri)