Day : Saturday
Date : May 17th, 2008
Time : 6 pm – 9.30 pm
Location : SMAN 9 Surabaya

We all arrived at over 6 pm, and then we passed the ticket checking spot. All were finally done so we continued our mission. We saw the event was lack of crowded (or it just had started? hehe), but that didn't matter. It would be easier to find some stylish and quirky people. Yeah, we were so into our project!! :D

Anyway, it was our first hunting. We got very nervous, you know. We kept thinking that having a sudden conversation with stranger and took their photograph were such embarrassed things. But we threw away that kinda pessimistic thoughts immediately, and we were completely confident to find the objects :)

Thanks God, we got them. They were sooo eye-cacthy!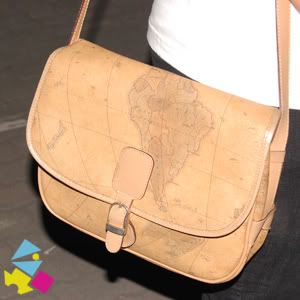 Marsya, 18, SMAN 9 Surabaya


T-shirt : somewhere in Kelapa Gading Jakarta
Shoes : Vans
Vintage leather bag : her Mom's
Knit shawl : somewhere in Kelapa Gading Jakarta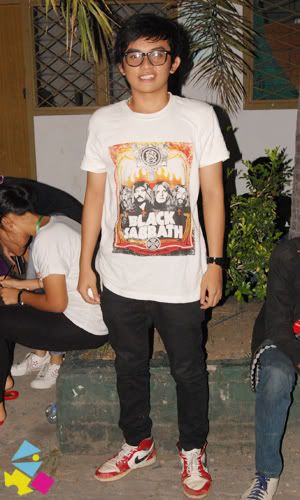 Satria, 19, Information Technology ITS


Black Sabbath T-shirt : somewhere shop in Bandung
Jeans : Lee Cooper
Shoes: Nike Air Jordan
Framed-glasses : my friend brought from Singapore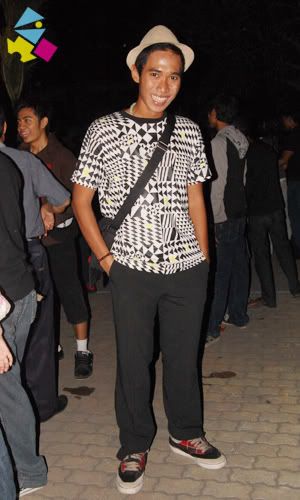 Rangga, 17, SMAN 9 Sby


Full-patterned T-shirt : Urat Nadi Distro (local shop in Surabaya)
Pants : 126
Shoes : Nike SB Dunk Zoom Air Harbor
Straw-hat : Garlick (local shop in Surabaya)
Bag : Lacoste
Necklace : healthy stuff (haha)

That's all. Okay, thanks a lot guys. That was pretty nice of you :)
Love,
Marsha. Echa. Putri. Qza
(all photos were taken by Putri)