Day : Monday
Date : May 19th, 2008
Time : 01.00 pm - 04.00 pm
Location : Galaxy Mall Surabaya
Here we are for the second hunting. We marked Galaxy Mall as our destination so we are all leaving from Putri's house. For the very first time, we just stuck inside the toilet and took at least 2 photographs there for the documents. That was fun anyway!

After that, we went through GM Extension as we were looking forward to a stylish people. Yeah! We got one! A man was walking casually along the line shops. C'mon take a look for him.


Iqi, 24, Illustrator
T-shirt : Cole
Short pants : somewhere shop in Surabaya
Knit winter cap : from Delta Plaza Surabaya
Shoes : Vat and Vit
Bag : somewhere in Mangga Dua Surabaya
We found that he's a multi talented guy. Besides being an

art director

, he's also an

illustrator

and worked as a

graphic designer

. Click a link below here if you wanna see more about his works.

www.donqoror.blogspot.com

Then we met a pretty girl inside TGA Store. She looked so familiar and we realized that she continually took a pose for DetEksi Jawa Pos. Aha, yea,

she's a model

.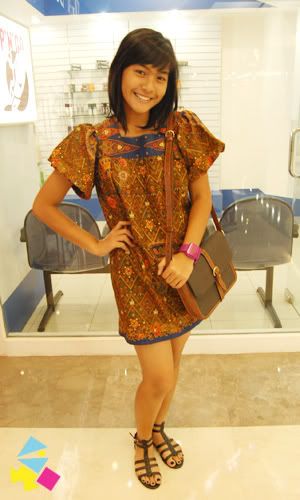 Rani, 13, Model, SMP Santa Maria Surabaya
Batik dress : Danar Hadi
Postman bag : her Mom's stuff
Watch : Levi's
Gladiator sandals : H2O, Tunjungan Plaza Surabaya

Well, thanks for Iqi and Rani!
Keep visiting us, readers!